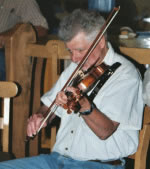 TUNE RESOURCES
Blue Rose - Scandinavian Folk Music. This site is for musicians who play Scandinavian folk music: the largely traditional music of Sweden, Norway, Finland, and Denmark.
Ceolas. The home of celtic music on the internet, since 1994. Ceolas houses the largest online collection of information on celtic music, and has links to hundreds of related sites.
The Traditional Tune Archive is a World Wide Web information storing and retrieval tool dedicated to instrumental music of the past 300 years traditionally used for dancing in Ireland, Great Britain, and North America.

REELS, HORNPIPES, MARCHES
JIGS, SLIP JIGS, SLIDES
POLKAS
WALTZES
MAZURKAS
Irish [midi]
L'Inconnu de Limoise [midi]
Michael's Mazurka  [midi]
Pernod [midi]
Sonny's [midi]

OTHERS
Costumi Siciliane [midi]
Crooked Step  [midi]
Da Auld Swaara Jupie  [midi]
Dearest And Fairest (Beau's Retreat)  [midi]
Kemp's Jig  [midi]
Min Levnads Afton (gånglåt) [midi]
Nordic Medley (Varmlandsvisan/ Mandom, mod och morska man/ Uti Var Hage) [midi]
Papirossen [midi]
Pig Ankle Rag   [midi]
Road To Barga/Seanamhac Tube Station   [midi]
Viitaniemi Mix [midi]
Wirtshaus-Zwiefacher [midi]

SLOW AIRS
The mp3 files are my own intrepretations of these
tunes, not by any means the definitive versions.
Develop your own interpretations of these tunes.
Introduction to Slow Airs
Samples of Slow Airs and Songs sung amd played by Stewart Hendrickson

A Stoir Mo Chroi [mp3]
An Bauchaill Caol Dubh [mp3]
Archibald McDonald  [ midi]
Bunnan Bui [mp3]
Caoineadh Ui Dhonail [mp3]
Captaine O'Kane [midi]
Clergyman's Lamentation  [midi]
Coolin [mp3]
Crossing to Ireland [midi]
Da Auld Resting Chair [midi]
Da Slockit Light [midi]
Geaftai Bhaile Bui [mp3]
Hector the Hero [midi]
Heroes of Longhope [midi]
Last Lord of Beara [mp3]
Limerick Lamentation   [mp3]
Mist-Covered Mountains of Home   [midi]
Ned of the Hill [mp3]
Niel Gow's Lament for James Moray of Abercairney [midi]
Orkney [midi]
Planxty O'Rourke [midi]
Roisin Dubh [mp3]
Sad Is My Fate   [midi]
Sarah's Song   [midi]
Setting Sun [midi]
Shakin's o' the Pokey [midi]
Sliabh na mBan [mp3]
Ur-Chnoc Chein Mhic Cainte   [midi]
Warrior's Lament   [midi]
Women of Ireland [mp3]
Wounded Hussar [mp3]